Over the past few weeks we have received so many amazing messages and statements of support, supplies of food to the occupation, and overwhelming attendance at the demonstrations so far. Through this, we were shown how many students support and agree with the 10 demands, but do not necessarily feel comfortable to go into an occupation or participate in radical forms of direct action, so we've written up 8 different ways of how you can support the campaign without sleeping in the Senate Chambers for a week…
1. Mobilise for next Tuesday on Facebook by changing your profile picture, inviting all your friends to the event and obviously clicking attending yourself!
Next Tuesday is not only strike day, it is also the first demonstration since the eviction of the occupation. Therefore this will be an incredibly important step to increase the pressure on the university and to show how serious we are about our demands.
2. Mobilise for next Tuesday on campus on Monday by chalking, flyering, postering and giving lecture shout-outs everywhere!
There will always be someone sitting in the Nuffield building with flyers, chalk and a lecture shout-out timetable, so just head over there for more instructions or guidance on giving the shout-outs.
3. Wear a red square!
The red square is a symbol for "Free Education". It comes from Quebec where it became the symbol of a mass movement that successfully stopped the rise of tuition fees, wear it in solidarity! You can pick one up at our meetings, protests or by asking for one on the group.
4. Join the Defend Education Facebook group and come to our meetings!
Defend Education is a democratic group and everyone interested is welcome to our meetings. If you want to get involved in the actual decision making process of the campaign then you should definitely come to our meetings, Mondays at 6pm in the Nuffield Learning Centre.
5. Send a letter to Amnesty International!
Two years ago Amnesty International condemned the University for giving out an injunction for any occupational style protest on campus. Now we are in a very similar situation and want to try to get their attention again. Please join us in sending them a letter – we have a template available if you'd like or just send your own!
6. Send a letter to university management!
University management insists that the occupiers do not represent the student body. Show them that there are many more of us and that you agree with the demands of Defend Education. Send the university a letter – template also available if you wish.
7. Write blog posts and articles!
While we have our own blog, it is always really important to hear different perspectives on the campaign and the different actions. For example, if you have specific interest in one of the demands, please write an article about it and send it to us to publish/circulate.
8. Organize your own event!
Are you passionate about the campaign, but instead of going to another protest you would rather organise a concert or paint a massive banner? Please post your ideas in the Defend Education group, see what people think and put them into practice!
We hope that these help you to get involved in the campaign and put pressure on the University to recognise its students an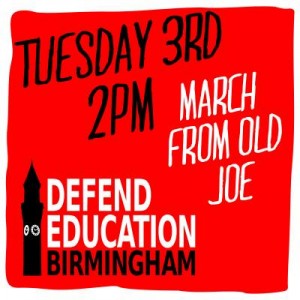 d negotiate with Defend Education!!!