Press Release
For further information call Defend Education on 07842765067
University of Birmingham Apply for Second Injunction in two months.
The University of Birmingham are applying for their second injunction in the last two months, in order to remove students from an occupation of the Horton Grange conference centre. The students occupying are members of Defend Education Birmingham - an activist group at the university - who intend to stay until the university accept a set of demands. These include a living wage for all staff, more power for students and staff in university decision making, and that the university should lobby against tuition fees.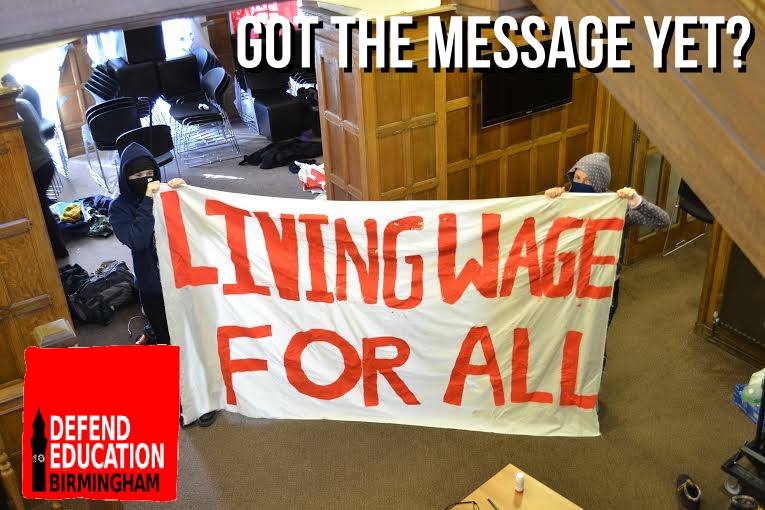 This injunction is almost identical to a previous injunction, taken out in late November, in order to remove a previous occupation by Defend Education. Rachel O'Brien, 18, a 1st Year Liberal Arts and Sciences student, says "It is perplexing that the university would rather spend over an expected £60k in legal fees targeting a small number of students, instead of negotiating with our demands. The Living Wage would have cost the university less to implement than their current strategy of repression; if we tally up legal, security, and other costs of trying to repress the occupation".
Defend Education have issued a statement and letter to senior management outlining their commitment to leaving the occupation before the hearing if the University of Birmingham agrees to implementing a Living Wage for all staff and come to the negotiating table with respect to the other demands. They believe that the £30k+ legal fees would be better used making up the wages of support staff.
Jozef Brodala, 21, a 3rd year Political Science student says "It amazes me that the university chooses to pour so much of students' money into the futile goal of repressing them, rather than engaging with their reasonable criticisms and demands."
This is in advance of a national demonstration and national meeting taking place in Birmingham tomorrow; where hundreds of students are expected to come from all over the UK to discuss collective demands and co-ordinated action, and to protest the undemocratic, unequal, and repressive state of universities.
Notes
[1] Full list of demands: http://www.defendeducationbrum.org/our-demands/
[2] Previous Occupation: http://www.independent.co.uk/student/news/occupy-birmingham-students-defy-injunction-after-university-pursues-them-in-court-8964047.html
[3] Evictions: http://www.theguardian.com/education/2012/jan/09/student-protests-university-evictions
[4] Very similar Injunction by Birmingham University, attacked by Amnesty International two years ago: http://www.theguardian.com/education/2011/dec/11/birmingham-university-protest-ban-condemned